Adjustable beds allow you to adjust the position of your bed. Ideal for those who suffer from aches, pains or mobility issues, our range of electric adjustable beds allow you to change the positions of your bed at the touch of a button.
Discover our home care adjustable bed range, and recover in the comfort of your own home.
We produce the highest quality adjustable beds, all lovingly hand-built in the heart of the Midlands in our very own UK factory. This ensures you get British quality, unrivalled support and the best night's sleep at a truly great price.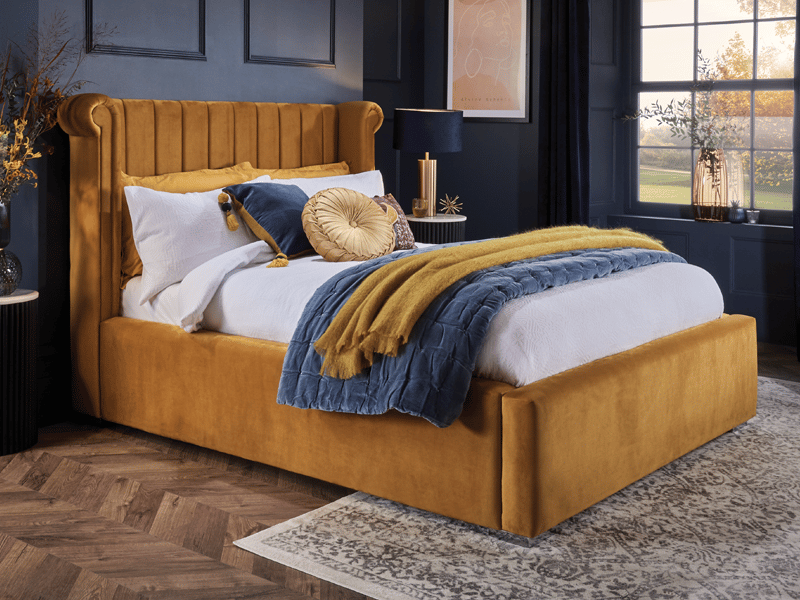 With a striking rolled topped headboard and shown in a bold mustard yellow plush, this show stopping adjustable bed…
Home Care Adjustable Beds
Here at Willowbrook, we understand how important it is to help people retain mobility around their home. Our medical/hospital beds and disability beds make life that little easier at home.  Our electric medical bed range offers superior support, and ease of use for both carers and patients.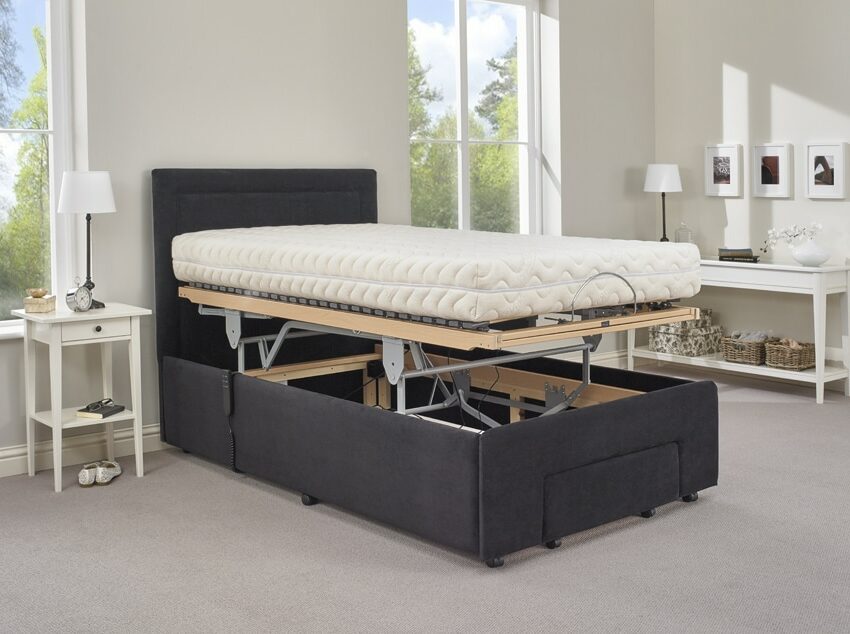 Offering the functionality of a hospital bed with all the style you've come to expect from a Willowbrook bed. Cleverly designed with the safety of carer and user in mind.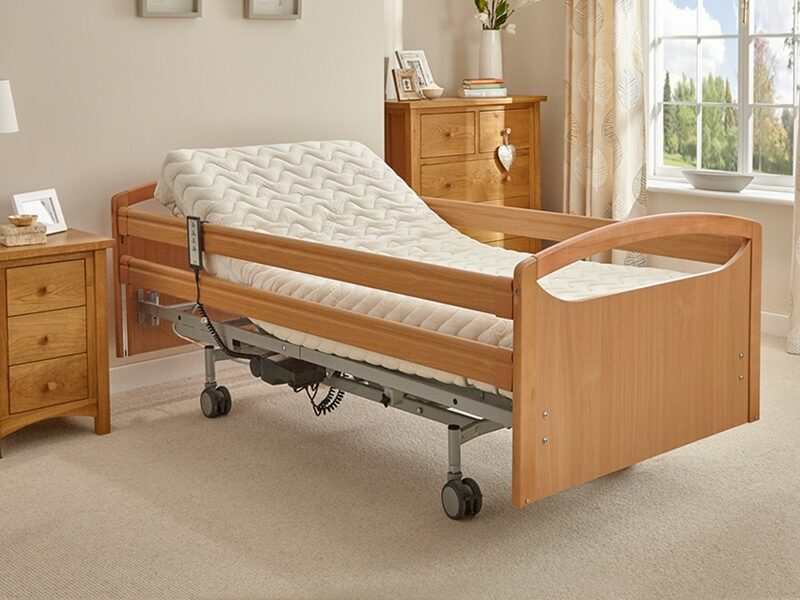 Offering the functionality of a hospital bed with all the style you've come to expect from a Willowbrook bed. Cleverly designed with the safety of carer and user in mind.
A good day starts with a good night's sleep. This is why we are passionate about producing the highest quality electric orthopaedic beds.
Our extensive range of adjustable beds can help you to find the sleeping position that offers you maximum comfort, meaning you can enjoy a good night's sleep and wake up feeling refreshed again. Not only this, if you suffer from limited mobility, our adjustable beds allow you to sit up and lie down at the simple touch of a button, helping you to re-gain your independence in the bedroom.
Conventional beds don't curve to the natural 'S' shape of your spine, meaning additional strain and pressure is put onto your back which can trigger back pain. On the other hand, adjustable beds can contour to the shape of your spine at the touch of a button, alleviating this pressure and offering you the comfort that you deserve.
It is not just your back that is supported by adjustable beds. Different positions can relieve pressure from your head, shoulders and legs too.
Not only can you choose from a huge range of contemporary adjustable bed styles, but we also offer a range of optional accessories too! From reading lights to in-built USB ports; you can design your bed to suit your exact requirements.
At Willowbrook, every single one of our beds is lovingly hand-built using the highest quality materials. All by the best craftsmen at our factory in the heart of the UK. This guarantees high, British quality every single time.
What is an Adjustable Bed?
Adjustable beds are versatile sleep solutions that can be positioned for comfort and support during sleep. They are also known as mobility beds or reclining beds and are controlled by motors that let users raise or lower different parts of the mattress such as the head and foot sections.
This adaptability enables individuals to find their preferred sleeping positions, making it ideal for those who enjoy reading, watching TV, or relieving conditions such as snoring or sleep apnea. They are also ideal for those with mobility issues and can provide relief by elevating your legs. Adjustable beds are designed with comfort and wellness in mind, promoting better sleep quality and overall relaxation.
How Do Adjustable Beds Work?
Adjustable Beds adapt to your sleep postures, helping you to sleep soundly. Controlled with an easy-to-use handset, you can raise and lower each section of the bed at the touch of a button, allowing your body full support in all the right places, giving a zero gravity feeling.
Some Adjustable Bed bases consist of only one lever action in the internal bed frame. In order to give you the most flexibility, Willowbrook adjustable beds use a 5-lever action to ensure you find that comfortable position.
With each section moving separately, it provides support to the mattress and more importantly, you! This gives you a number of options for finding the most comfortable position for getting a great night's sleep.
Benefits Of Adjustable Beds
Adjustable beds offer a number of advantages compared to a normal bed, which make them an increasingly popular choice. Although may be seen as a luxury, an adjustable bed is essential for anyone with mobility issues, ailments or disabilities.
An adjustable bed undoubtedly improves your quality of sleep. As the bed adjusts to the contours of your body, you are less likely to swap positions during the night. Sleep interruptions will be reduced and you will wake up feeling refreshed.
Health Benefits Of Adjustable Beds
Adjustable beds have numerous health benefits that can significantly enhance overall well-being. These unique sleep solutions, available in Willowbrook's collection, provide personalised comfort and support. This is particularly beneficial for individuals with chronic pain conditions like arthritis or back issues.
Not only do they help alleviate aches and pains, they can help with acid reflux, snoring, and sleep apnea by raising the upper body and legs. This improves breathing and lowers the chance of heartburn during sleep.
These beds can also promote better blood flow and alleviate pressure on delicate joints, making them perfect for people with blood flow problems or mobility issues.