Electric Riser Recliner Chairs
What makes a Willowbrook riser recliner chair different? We believe every chair should be as unique as you. Our chairs are meticulously crafted for each individual customer, using the highest quality materials and methods of production. That's why our philosophy is all about ensuring our rise and recline chairs provide you with comfort, support and total relaxation
An electric riser recliner chair could help if you have low mobility, aching joints or a disability that makes sitting and standing difficult.
The Hanbury is one of our best riser recliner chairs for the elderly. Ergonomically designed by our skilled craftsmen, it's our most supportive mobility recliner to date!
Home Care Riser Recliners
Here at Willowbrook, we understand how important it is to help people retain mobility around their homes. Our electric recliner mobility chairs can help you to transport a loved one to make life that little easier. Our electric riser recliners offer superior support, ease of use for both carers and patients and a helping hand is just a phone call away.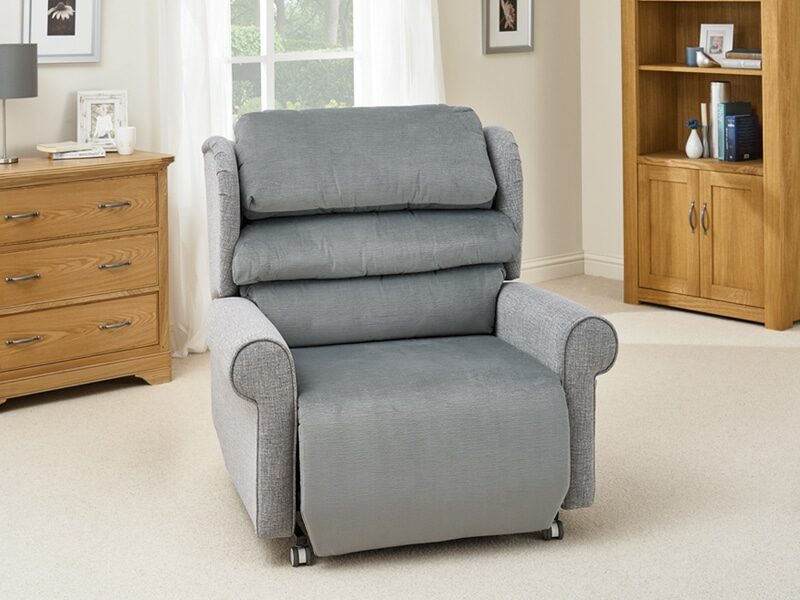 The Bariatric can incorporate up to 4 motors for separate back, leg and rise functions, plus an extra wide seat base. Ideal for those larger in weight.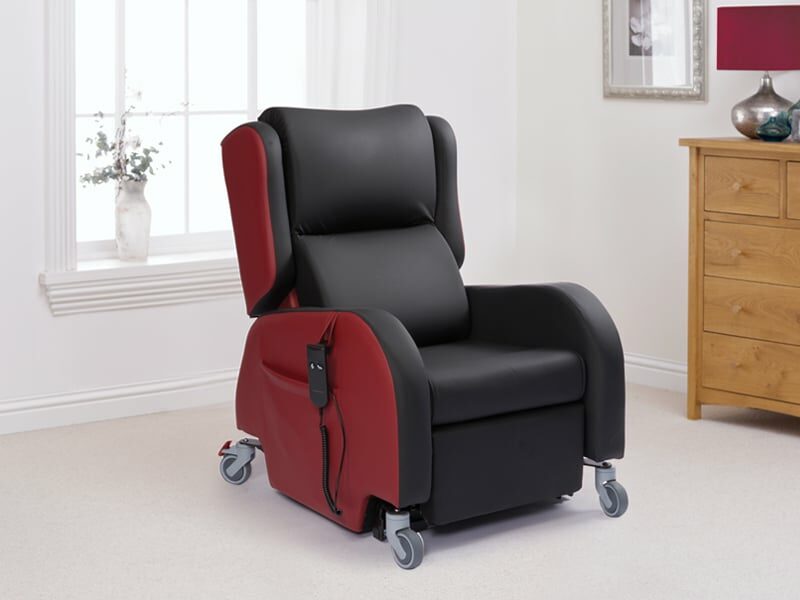 A stylish and comfortable mobility chair, be moved around your home in comfort and safety with The Porta Chair, available in a wide range of colours and fabrics.
What is a Riser Recliner Chair?
Riser recliner chairs are electric recliner chairs that also allow you to raise from a seated position to a standing position at the touch of a button. These supportive chairs are designed to provide the perfect balance of comfort and stability for individuals who spend a significant amount of time seated.
Whether you are dealing with limited mobility or have stiff joints due to age-related conditions, these chairs are specifically crafted to address your unique needs.
You are able to have your feet raised and relieve pressure points in tired and aching muscles.
Our made to measure riser recliner chairs offer you maximum support. We also offer the option to choose either a single or dual motor whilst choosing your perfect chair. Both of which can offer you a variety of different benefits.
Who is a Riser Recliner Chair Suitable For?
Riser recliner chairs are suitable for those with mobility issues who have difficulty finding the strength to rise from their chairs. They also help those who have aches, pains or arthritis as they can relieve pressure.
What is the difference between a single motor and a dual motor?
Single motor riser recliner chairs enable you to elevate and recline your feet simultaneously. On the other hand, dual motor riser recliners provide you with the ability to independently adjust the backrest and the footrest.
This means that you can stay sitting up straight whilst your feet are raised whilst you're watching TV or speaking with your family members.
Our riser recliners will maximise your comfort and help you regain independence at home, no matter which motor option you choose. The electric motors will effortlessly lower you into and raise you out of your chair at the simple touch of a button. This reduces strain on your legs, hips and wrists.
Not only can you choose from a huge range of contemporary chair styles, colours and fabrics, but we also offer a range of optional extras and accessories too! From reading lights to technology tables; you can design your chair to suit your exact needs and requirements.
At Willowbrook, every single one of our armchairs is lovingly hand-built at our very own factory in the heart of the Midlands. This means high, British quality is always guaranteed. As well as this, we source only the highest quality, sustainable materials and employ only the best craftsmen to build our riser recliner chairs, giving you peace of mind after purchasing.
Willowbrook Riser Recliner Features