How do adjustable beds work?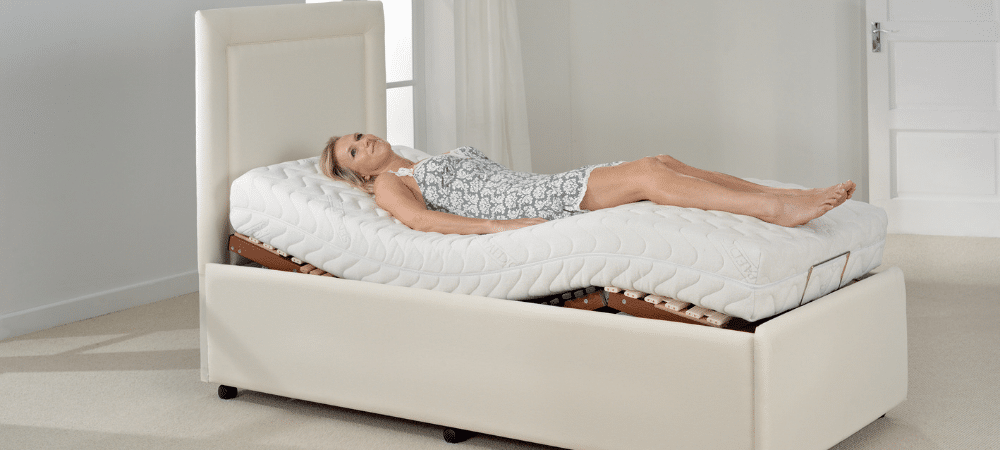 Are you finding it difficult to get in and out of bed? Or do you often experience an uncomfortable night's sleep? Then an adjustable bed could be exactly what you need.
So, how exactly do adjustable beds work? Adjustable Beds work by providing a surface that adapts to your individual sleep postures, helping you (and your partner) to sleep soundly. Controlled with an easy-to-use handset, you can raise and lower each section of the bed, via its near-silent electric motors.
Some Adjustable Bed bases consist of only one lever action in the internal bed frame. In order to give you the most flexibility, Willowbrook adjustable beds work using a 5-lever action to help find that comfortable position. Each action is constructed by using 37 individual rubber-mounted slats.
With each section moving separately, it provides support to the mattress and more importantly, you! This gives you a number of options for finding the most comfortable position for getting a great night's sleep.
Willowbrook Electric Adjustable beds are designed to help you find that ideal position for a perfect night's sleep. This means you'll not only experience incredible support and comfort all night long, but you'll also wake up feeling completely refreshed too.
How does an adjustable bed control work?
An adjustable bed can be moved into various positions, via the buttons on the hand control.
Press the appropriate buttons to raise and lower the bed into the most comfortable position. An adjustable bed is infinitely variable for you to find the best position to relax in.
When you wish to get out of the bed, push the raise back button. The bed will gently lift you to a secure upright position allowing easy movement out of the bed.
Why move your body to suit your bed, when you can move your bed to suit your body?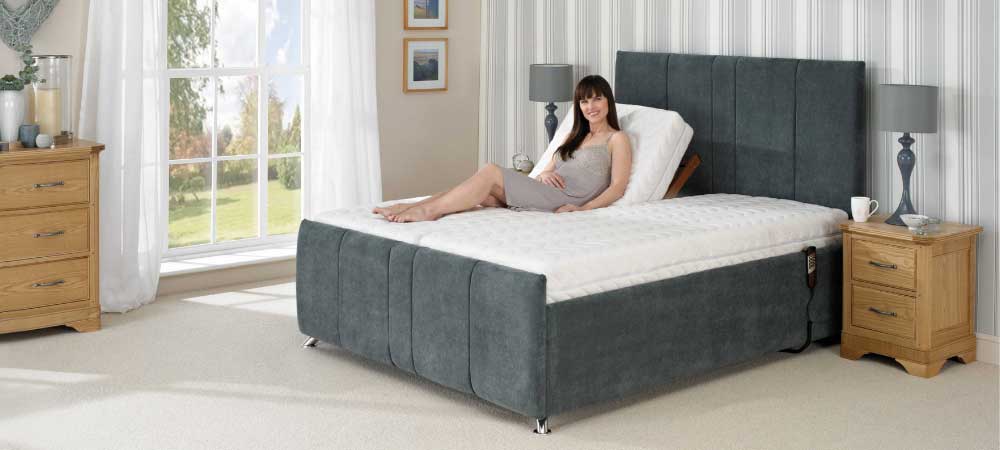 Years of research have shown us that achieving the correct support and sleeping position are essential for a good nights rest. It can also help to provide temporary positional relief of aches, pains and joint problems.
Willowbrook Mobility Direct has developed a range of Adjustable Beds that help to distribute your weight evenly and find that ideal position for a perfect night's sleep.
Selecting Your Perfect Adjustable Bed Mattress
Having the correct support for your spine is imperative for deep and comfortable sleep.
Mattress quality is vital for the immediate and long term condition of your spine.
When you choose a Willowbrook adjustable bed, in addition to its flexible five part base, you have the option to select from two mattresses, to suit your specific comfort needs:
The Sensapaedic® Mattress
Anti-allergenic, with a zip-off, washable cover for easy care
The Pocket Mattress
A reassuring blend of comfort and support
How Could an Adjustable Bed Benefit Me?
Adjustable beds offer a number of advantages compared to a normal bed, which make them an increasingly popular choice. An adjustable bed would be perfect for you if you would like to:
Adjustable beds can also be helpful to people with a variety of different medical conditions including arthritis, back ache, sciatica, circulatory problems and breathing difficulties (among may others).
Adjustable Bed Sleeping Positions
Your body and spine are curved not flat. If you sleep on a flat mattress, gaps are created between your body and the mattress and you are left without support in those areas.
As a result, your own muscles will need to provide the support, meaning increased fatigue and aches and pains on waking – if you get to sleep at all that is!
Adjustable beds work by allowing you to achieve a sleeping position that provides the correct support to your body and spine. Plus an adjustable bed helps to distribute weight evenly across your body, thereby avoiding pressure sores – especially important if, through illness, injury or disability, you spend long periods in bed.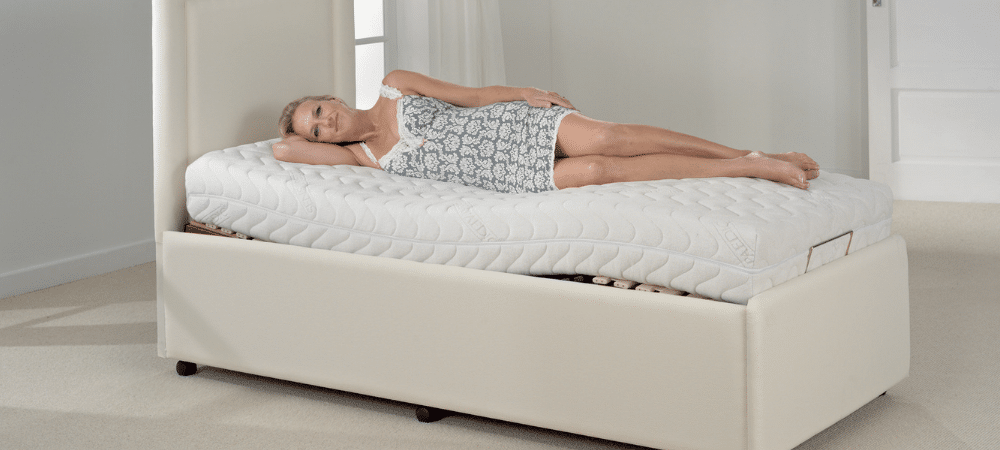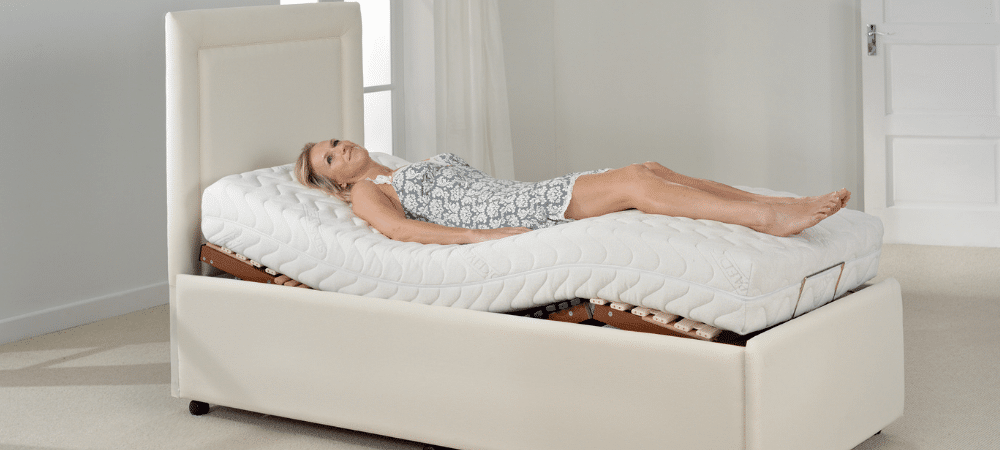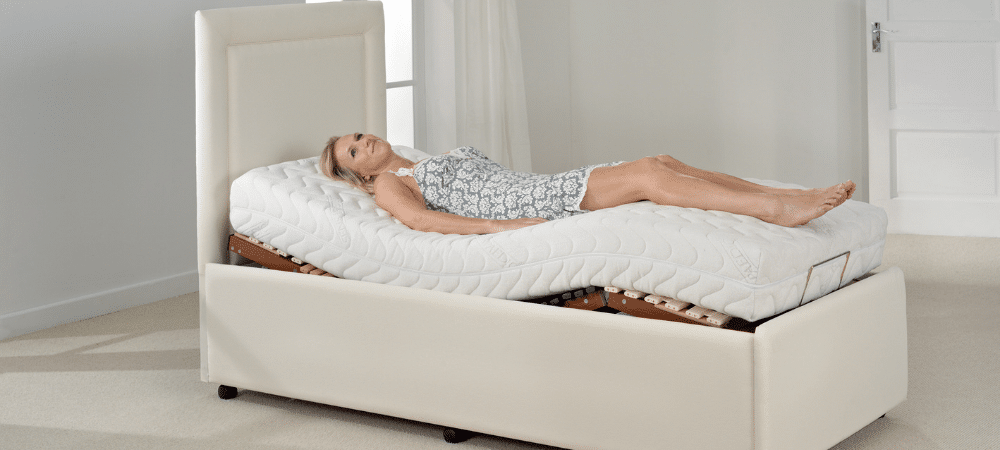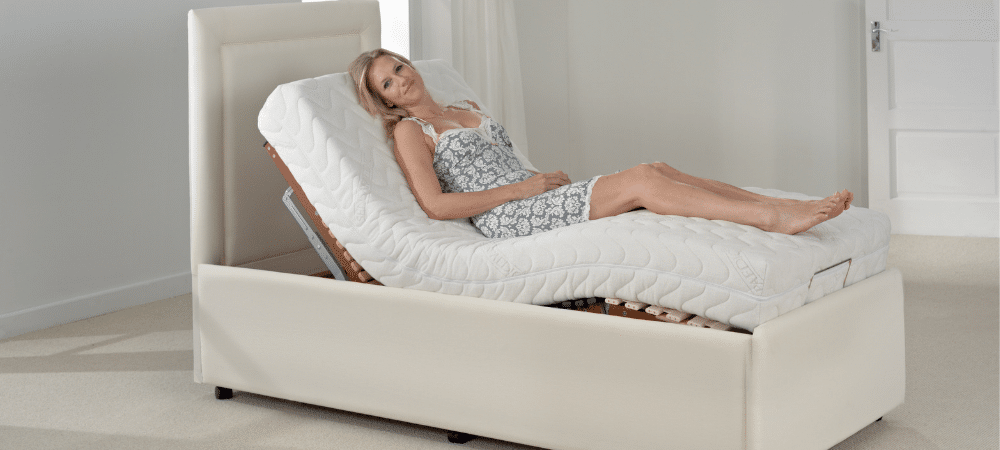 Add to your comfort…
With our range of thoughtful optional extras, you can add the touches, which will complement your lifestyle and enhance your adjustable bed experience.
In-built massage system
Enhance your relaxation experience by adding the massage system. With finger-light controls for ease, choose from a full body massage, or focus attention on one of five specific areas of your body. Find out more.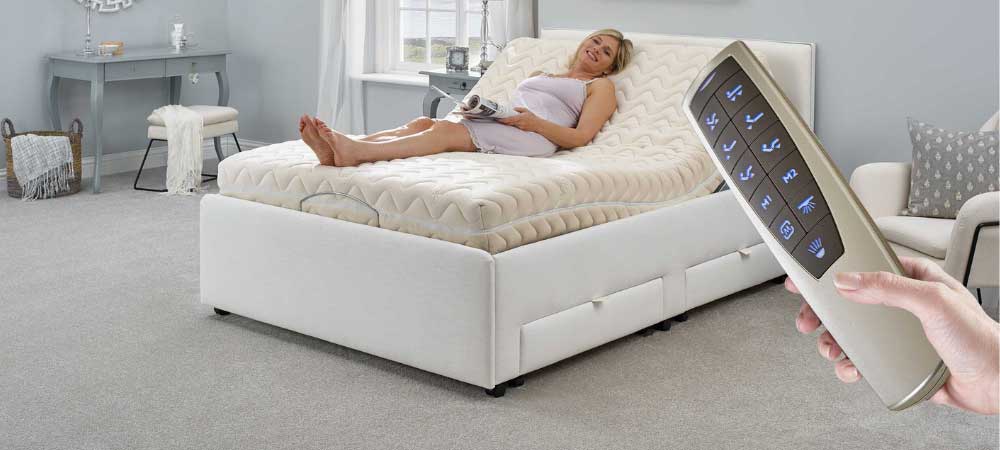 Stylish bedside tables
Some of our beds have matching bedside tables, so you can complete the look in style.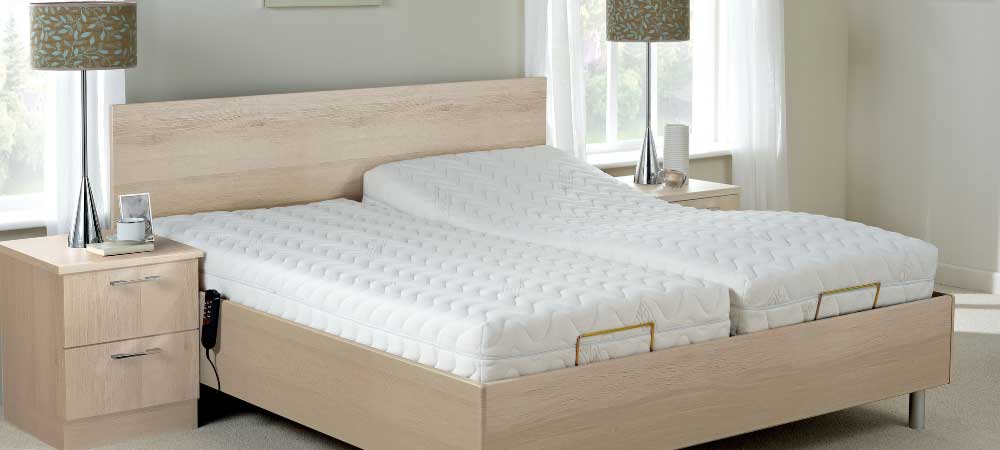 Handy USB charging socket
Built discreetly into the side of your bed, this offers you a convenient place to charge your phone or tablet.
Reassuring night-time motion sensor lighting
Under-bed lighting senses your movement and lights your way.
Did you know that sleep can be a natural pain reliever for your arthritis? If you suffer from pain, tiredness or swelling investing in an adjustable bed can relieve...