How To Buy The Best Orthopedic Bed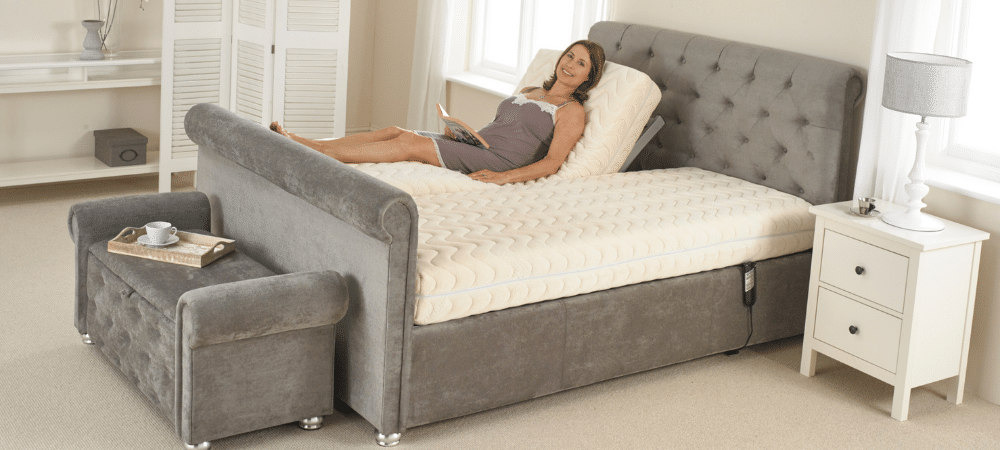 Are you looking to buy the best orthopedic bed but feel unsure about where to begin your search? If so, read on to discover how you can buy the best orthopedic bed for your needs with this useful and informative guide.
What is an orthopedic bed?
Orthopedic beds are designed to be able to adjust to your individual needs and requirements. At the touch of a button, you can move the position of your bed to put you in the most comfortable position for the perfect night's sleep.
How could I benefit from an orthopedic bed?
As members of The National Bed Federation – actively represented by The Sleep Council – we are passionate about raising awareness of the benefits of a good night's sleep.
So, why is it so important to have the correct Orthopedic bed and mattress?
The right bed and mattress play a key role in helping you sleep better. A good night's sleep is not only the best way to recharge your batteries, but it can help support good health and wellbeing, too.
In fact, a lack of sleep can put you at increased risk of a stroke and heart disease. So if you're not enjoying enough restful sleep, it could be time for a new bed.
Do you lie awake at night unable to sleep because you are uncomfortable in bed or are experiencing aches and pains? If so, an orthopedic bed could be exactly what you are looking for. Due to their incredible positional flexibility, orthopedic beds are perfect for providing temporary relief from multiple medical conditions including:
Swollen arms and legs
Breathing difficulties
Circulatory problems
Acid reflux
Post-surgery healing
Back and joint pain such as arthritis
Where can I purchase an orthopedic bed?
Orthopedic beds can be purchased from multiple places.
There are local and national retailers near the town high street, but they aren't always the easiest to get to.
As you know, the trend for shopping is increasingly moving away from expensively run shops and towards a more personal experience from reputable online retailers.
You could opt for a home consultation where a bed can be demonstrated in your own home by experienced product specialists.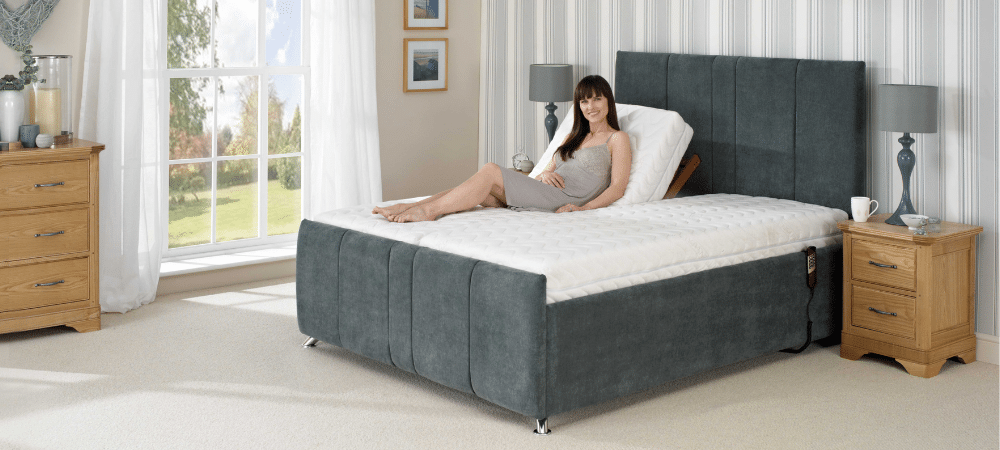 How do I choose the best mattress for my orthopedic bed?
The quality of your mattress is key to the immediate and long-term care of your spine, and the secret to comfort at night to enjoy a deeper, more comfortable sleep.
When you choose a Willowbrook adjustable bed, you have the option to select from two orthopedic mattresses, to suit your specific comfort needs:
This is anti-allergenic, with a zip-off, washable cover for easy care.
Specially designed for use with Willowbrook beds, the 8" thick mattress cradles the hips and shoulders while also supporting the small of your back, shaping itself to your body.
The Sensapaedic® Mattress responds independently to your weight and body movement. The high-density material incorporated into the mattress provides excellent comfort and support.
It also features a highly effective anti-allergenic treatment to suppress dust mites and prevent the formation of bacteria.
As an added extra, the mattress is also available with our relaxing built-in massage system.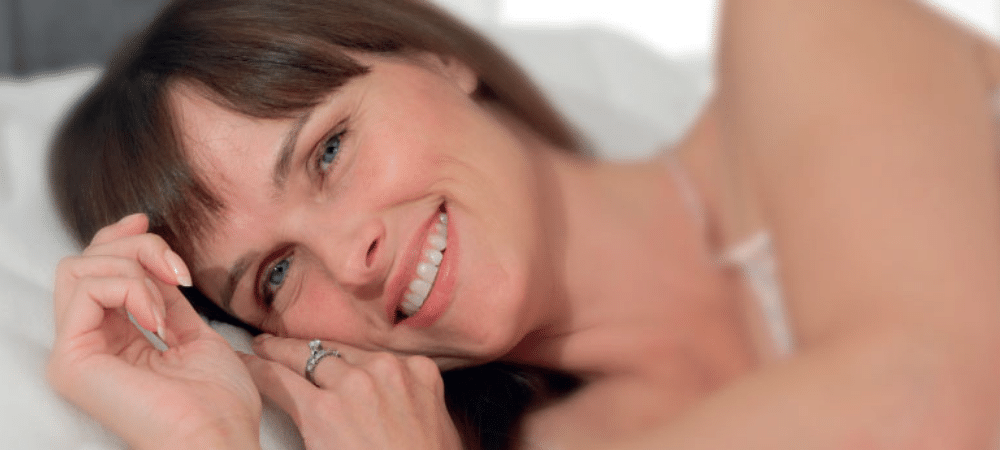 Sleep, snooze, relax peacefully, in a Willowbrook Orthopedic Bed
At Willowbrook, we have been at the forefront of orthopedic bed design and manufacture for over two decades.
By manufacturing our own orthopedic beds, we're able to keep costs down. So you can enjoy all the benefits of a luxury, handcrafted bed at a factory-direct price.
Our reputation underlines our commitment to offering high quality adjustable beds at factory direct prices. And as thousands of our customers would agree. Willowbrook beds combine value for money, style, choice, and above all, comfort.
Willowbrook's high quality, traditionally hand-crafted orthopedic beds are as comfortable as they are beautiful. So begin your search for the perfect orthopedic bed today. You can choose from a wide range of orthopedic beds in varying sizes at affordable prices.

Finishing touches for your Orthopedic bed
With our range of thoughtful optional extras, you can add the touches, which will complement your lifestyle and enhance your adjustable bed experience.
In-built massage system
Enhance your relaxation experience by adding the massage system. With finger-light controls for ease, choose from a full body massage, or focus attention on one of five specific areas of your body.
You can control the intensity easily. Plus, for your peace of mind, should you nod off, the system automatically switches off. A great addition to your bed, this can benefit sufferers of a range of ailments.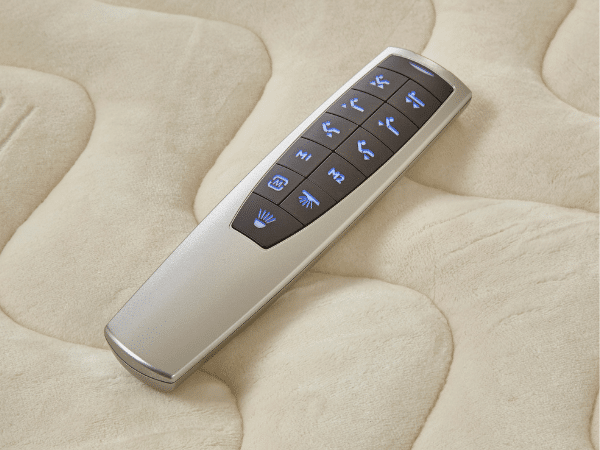 Handy USB charging socket
Built discreetly into the side of your bed, this offers you a convenient place to charge your phone or tablet.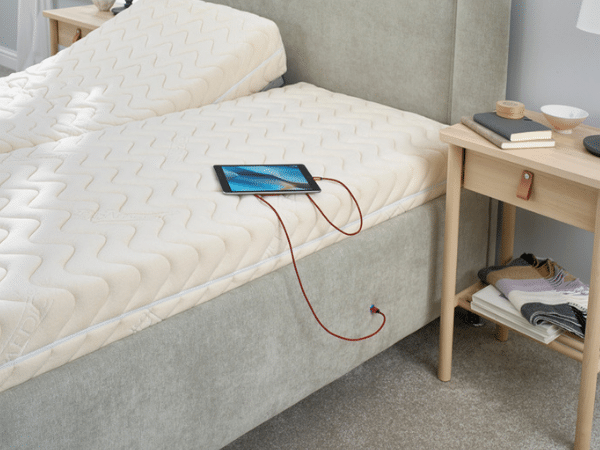 Reassuring night-time motion sensor lighting
Under-bed lighting senses your movement and lights your way.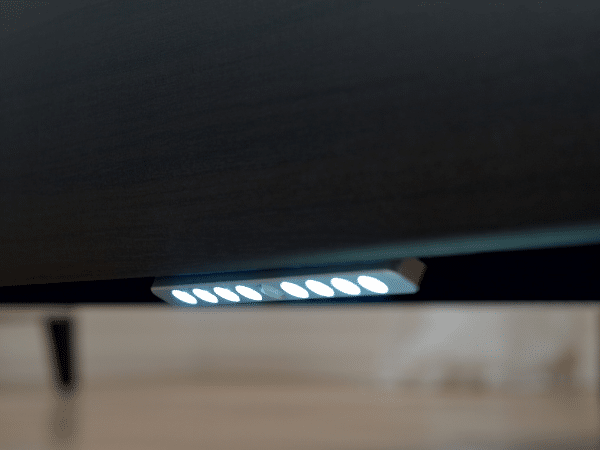 Bed drawers
Use your bed for storage with the built in bed drawers.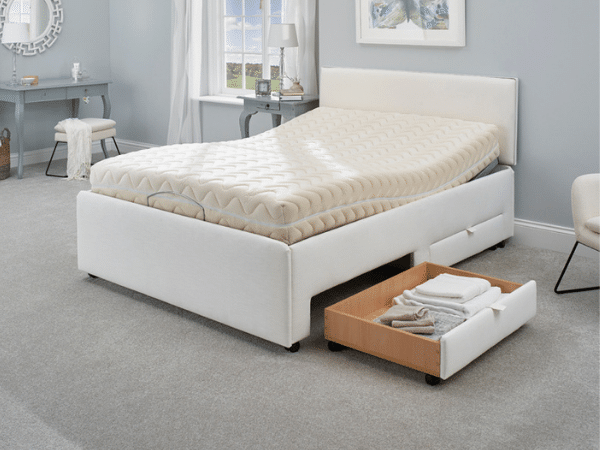 Discover quality comfort for yourself
The best way to discover the benefits of the right bed is to experience the quality for yourself – in the comfort of your own home.
A FREE home demonstration gives you the opportunity to try all the product features. You can browse our extensive range of fabrics and discover our selection of ingenious accessories to make your life easier.
Our local, trained Product Specialist will demonstrate the quality of our furniture and answer any questions you may have.
We want you to be perfectly happy that you know how to use your bed and that it's right for you, before you make the decision to purchase it.
Remember, it is free and there is no obligation to buy; if it isn't suitable, we wouldn't want you to have it!
If you would like a friend or family member with you that is fine by us – in fact, we encourage you to have someone with you.
Did you know that sleep can be a natural pain reliever for your arthritis? If you suffer from pain, tiredness or swelling investing in an adjustable bed can relieve...