How Does a Riser Recliner Sofa Work?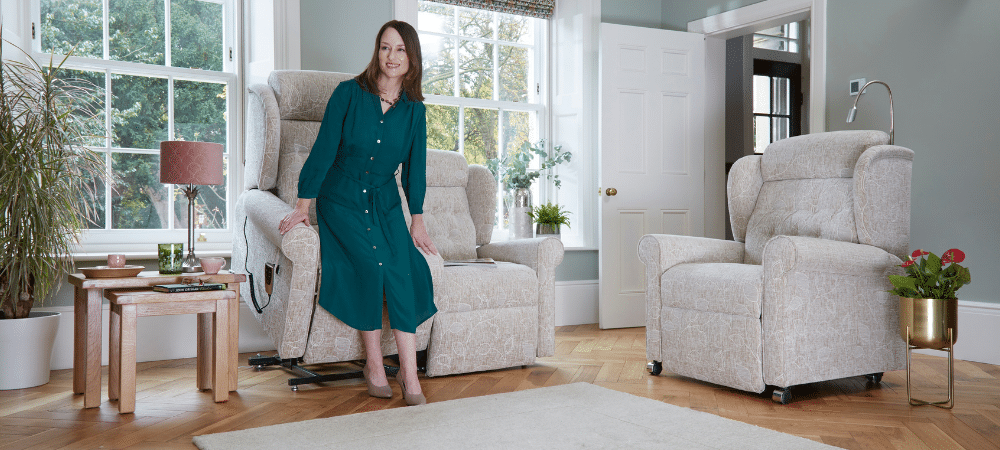 Electric recliners are becoming popular in the modern world we live in today but what is an electric riser recliner and how do they work? Discover not only how recliner sofas work but if recliner sofas are good for your specific needs and requirements.
How Does a Riser Recliner Sofa Work?
A riser recliner sofa works in the same way as a riser recliner chair. You still get precisely the same comfort and mechanics but there is two part to the riser recliner sofa and they can move independently of one another. You are able to raise, lower and recline at the touch of a button. Here's how electric recliner sofas work:
Sitting In an Electric Riser Recliner Sofa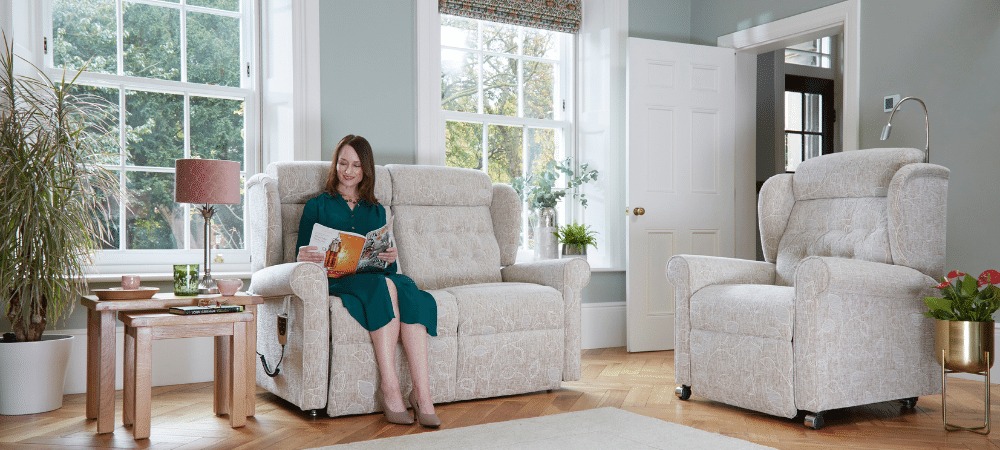 How To Recline in a Recliner Sofa
Getting Out of A Recliner Sofa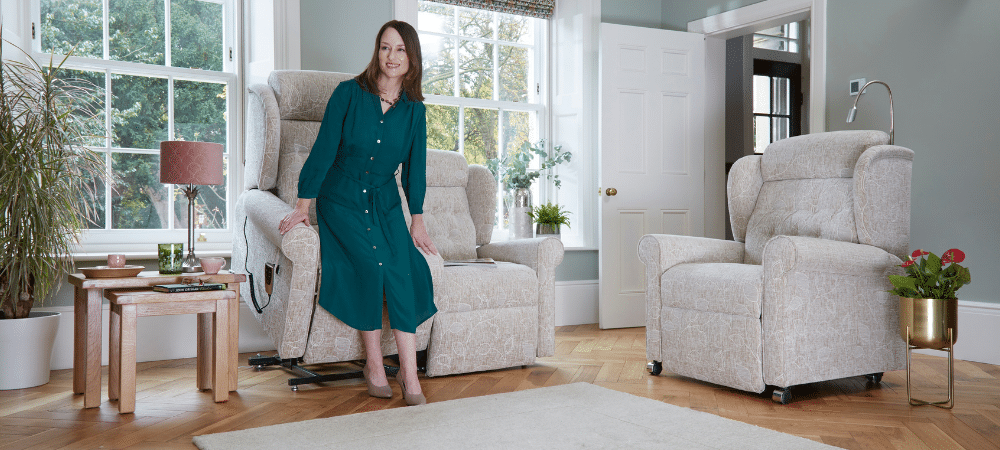 Ideal Recliner Sofa Positions For Your Posture
The best thing about recliner sofas is that they can be adjusted to your exact needs and requirements.
You can choose from a variety of comfortable positions and even get an inbuilt massage system if you would like to.
At Willowbrook, we understand that not everyone is the same size, shape, weight or height – so neither are our recliner sofas!
The correct seat depth, height, width and footrest position are all essential to your comfort. All of our models come in a choice of five standard sizes – Petite, Standard, Petite with Standard width, Grand, and Grand with Petite width.
And because they are essential, during your free home demonstration we can take all the details we need to hand build a chair which is perfectly sized to fit you, so your riser recliner sofa will give you the best possible support and comfort.
Are Riser Recliner Sofas Good?
Recliner sofas are undoubtedly the perfect rest companion for your living room.
They are especially good for those people with conditions such as back pain and arthritis.
Whatever your décor and sized room, our skilled craftsmen can make a stunning two or three-seater sofa perfectly proportioned and wonderfully comfortable to suit you.
With a choice of soft fabrics, luxury leathers and endless colours; spoil yourself with the most supreme level of comfort and support that will have you glued to your seat.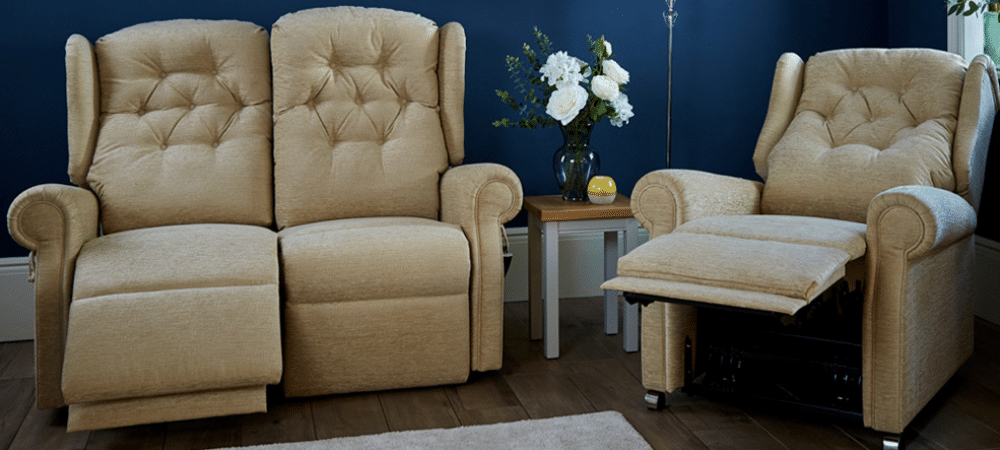 Why Choose A Recliner Sofa From Willowbrook?
At Willowbrook Mobility Direct you buy direct. As we manufacture our own furniture, we keep our costs down. This means you can enjoy all the benefits of a luxury, hand crafted recliner sofa at a factory price. We truly believe you won't find a better sofa at a better price!
What do I Need to Consider When Buying a Riser Recliner Sofa?
With so many suppliers out there, it can seem a little daunting to choose the best riser recliner sofa. The good news is there are some simple things to consider which can help make it easier.
Shopping For Choice
First of all, your new riser recliner sofa needs to match your individual needs, so is there a wide range of sofa styles and designs, with an extensive selection of fabrics and leathers to choose from? Do they make their recliners sofas themselves – and in the UK?
Value Your Time
There are local and national retailers near the town high street, but they aren't always the easiest to get to. As you know, the trend for shopping is increasingly moving away from expensively run shops and towards a more personal experience from reputable online retailers.
You could opt for a home consultation where items are demonstrated in your own home by experienced product specialists.
You've earned your right to relax in comfort, so enjoy sitting comfortably on your chosen recliner sofa.
Special Features
Choose the size to suit your space.
With two- and three-seater riser recliner options available, you can select a sofa that slots seamlessly into your room.
It's what's on the inside that counts.
While two recliner sofas might be the same style and colour, it's what's underneath that makes all the difference.
Are there any special features or accessories available, like a built-in massage system or a reading light?
For a completely stress-free, relaxed experience, take out a Guardsman Protection Plan for your
fabric or leather furniture to shield your furniture from those occasional mishaps, spills and stains.
Tried and Tested
Trust in quality too. As a general rule of thumb, look for well-established names with decades of experience, especially if they have good reviews from other happily satisfied customers.
The best recommendations come from people who are looking for the same comfort and support that you are.

What if a Recliner Sofa Stops Working?
Recliner sofas don't need to be serviced annually. It is advisable to choose a company that can arrange for one of its own, specialist engineers to visit if you experience any problems though.
In the unlikely event that you have any problems with a Willowbrook riser recliner sofa, you can call our customer care line and speak to one of our experienced technical advisors who will be able to help you with any simple issues over the phone.
If the problem is more serious, they will arrange for one of our in-house engineers to visit your home at a time and date suitable to you.
Recliner Chair and Matching Sofa
Complete your look with a stylish matching riser recliner, for the best of both worlds!
There is a wide range of fabrics for you to choose from, so you can ensure your sofa matches your riser recliner chair – giving your home a stylish look as well as meeting your comfort needs.
Rest assured, we apply the same attention to detail in the upholstery, build and finish of our sofas, that we do to our riser recliners.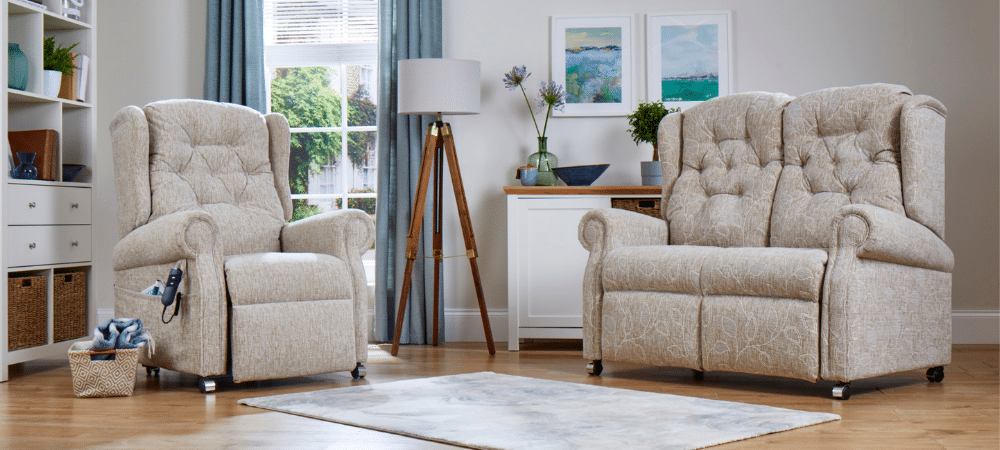 We hope this information helps you to find the most comfortable recliner sofa which complements your budget and needs.
If you need any further help deciding if a recliner sofa is the right choice for you, our customer support team will be happy to assist. Call today on 0800 988 2898 and take your first step to incredible comfort today.
Did you know that sleep can be a natural pain reliever for your arthritis? If you suffer from pain, tiredness or swelling investing in an adjustable bed can relieve...